I heard Hal and Melanie Young speak at a large Homeschool Convention a couple of years ago. They were a great team and had much to share, not only about homeschooling but also about having a large family with many boys.
I already own their book "Raising Real Men: Surviving, Teaching and Appreciating Boys," and several of their CD resources, so when they put out a call on Facebook for bloggers to review their new Christmas eBook I jumped at the chance.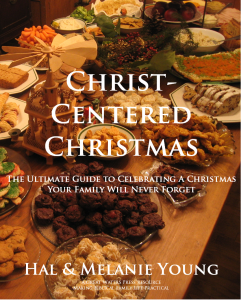 "
Christ-Centered Christmas: Celebrating a Christmas Your Family Will Never Forget
"
This great all-in-one product includes the words to the Christmas Story and to many Carols. The Christmas Baking section includes a baking spreadsheet, shopping list, menu ideas, and numerous recipes. Among other things, there are
chapters on decorating, having an "
Ornament of the Year,"
and Advent.
The Youngs tackle the important question "
What About Santa Claus?", explain their views on Gift Giving, and share
a family tradition around Epiphany.
I enjoyed reading this eBook and feel it helps us to think about our Christmas traditions and to choose ones that reflect the reason for our celebration. It's a good resource to have on hand and a quick read as you prepare for the Christmas season.